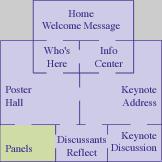 Making the case for creating a continuous school improvement infrastructure?

This message is in reply to:
Posted by: Gail Paulin
Posted on: May 08, 2002 at 8:16 PM
---
Message:
In your response you say
Wouldn't it be great if NSF were receiving grants from districts that had reform structures in place and could actually do the scale up work that is needed. This is where I feel we are now that we are strating our 5th year. WE had a resonably good proposal, we have learned so much in the process of enactment, but in a project of our size (1700 teachers and principals, we have established a reliabilty with the disitrict for effective professional development structures and yet we face the fact that our district is unlikely to fund continuing staff and teacher support to assure we reach those who are not yet on board and thsoe who are just entering our system. We have talked alot about what we could do IF the second 5 years were an option for funding. . as you said in your comment "NSF would be investing in the work of an existing capacity instead of building all the capacity... "
The work will never be "done", but we can become more effective in doing it over time. Unfortunately in a big system, this takes time.