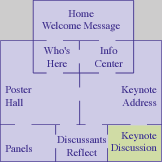 This message is in reply to:
Posted by: Michael Fullan
Posted on: May 03, 2002 at 9:59 PM
---
Message:
OK the list makes sense but we make a distinction between a change factor (your list) and a change process (what to do about addressing the factor.) The latter is hard but getting the list is easy. What strategies can be used to overcome the obstacle? That is the issue.