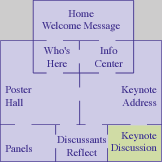 This message is in reply to:
Posted by: Michael Fullan
Posted on: May 03, 2002 at 10:05 PM
---
Message:
In the short run you cannot get deep change if the principal/supt is not interested. Your best bet is to team up with a few kindred spirits and try to carve out a niche of effectiveness. You can also keep pushing upward hoping there will be a breakthrough.