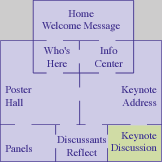 This message is in reply to:
Posted by: Michael Fullan
Posted on: May 03, 2002 at 10:15 PM
---
Message:
There are recently more examples of success in urban districts. See my Leading in a Culture of Change (Jossey-Bass, 2001) in which I discuss District 2 in New York and San Diego. See also the last issue of The Journal of Staff Development -the article on Baltimore-Turning the ship around.
Urban districts need to focus on math/literacy and science can be added.