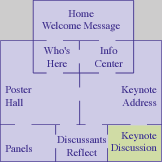 This message is in reply to:
Posted by: Joni Falk
Posted on: May 08, 2002 at 8:29 AM
---
Message:
There have been several posts in this discussion as to the place of science reform vis-a-vis math and literacy. Michael points out that in England when they focussed on literacy and math, the science scores also increased.
Jeanne in turn suggests that models of reform that began in science education positively influenced reform in other areas.
If you have gotten this far in this thread, please visit the very interesting panel on this topic called "Science and Literacy."
Here you will find two case studies from two different LSCs that report on the interaction, influences, benefits and also cautions of integrating science and literacy.