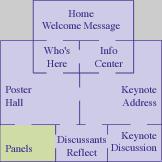 Uses and abuses of data in professional development

This message is in reply to:
Posted by: Frances Stern
Posted on: May 06, 2002 at 10:56 AM
---
Message:
Disaggregating the data is not sufficient. When students enter school with vast differences in exposure to mathematical ideas, and this difference widens through the grades, testing can only be meaningful if it tests growth rather than absolute "grade level" achievements. A student/teacher/school that brings a child from 4th grade level to 6th grade level in one year, should receive recognition for that accomplishment instead of being vilified for not being at "7th grade" level.