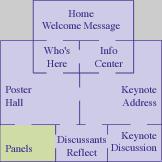 Elaine Woo
Hands-On Science In Seattle Public Schools, K-5

Read her Panel:
"Keeping Science on the Agenda"

Elaine Woo has been an elementary educator for twenty-five years in California, Japan, and Washington. She taught in programs for highly capable students and in the regular classroom in Seattle School District for twelve years years. In 1992, in the role of an Assistant Principal, she became involved in science education reform. Four years later, she became a principal in a school involved in the first cohort of the elementary science Local Systemic Change Grant. Currently, she is the Project Director for this grant which has developed Seattle's K-5 Inquiry-Based Science Program.