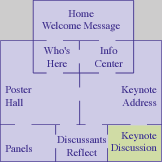 This message is in reply to:
Posted by: Ann Lieberman
Posted on: May 06, 2002 at 11:51 AM
---
Message:
Hi Michael:
I am more and more convinced that the role of outside reform groups is essential for large or small scale reform. But who should they be? And how many? And of what sorts? Many districts are hopelessly fragmented because they take on too many, yet they need outside help? What is your experience?
In District 2, Alvarado invited a number of outside groups in. He worked with the Teachers Union, hundreds of teachers were involved with Lucy Calkins at TC and there were others. So the growth of leadership and the development of inside knowledge comes not just from the inside, but from the choices that those in leadership make. Talk to us about how to think about this conundrum.