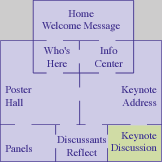 This message is in reply to:
Posted by: Michael Fullan
Posted on: May 08, 2002 at 12:01 AM
---
Message:
First, the problem of turnover has not been attended to. In the May ED Leadership article I suggested four conditions of sustainability. Basically the point is to provide a pipeline( leaders at many levels), focus on leadership succesion, get leaders to worry about what leadership they leave behind. Essentiall it is a matter of getting the system to take up the question of Leadership Succession.