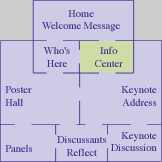 Click here to download the Flash Player.

Flash Player Questions:

Does the Flash Player cost money?
Marcomedia Flash Player can be downloaded free of charge.

Where is the best place to download the Flash Player?
Download Flash Player here. http://www.macromedia.com/shockwave/
download/index.cgi?P1_Prod_Version=ShockwaveFlash

Follow the directions very carefully.

I am still experiencing some confusion about downloading Flash Player.

We are here to help you and walk you through this process. Please e-mail or call us with the following information:


browser (Navigator, Internet Explorer, or other)
browser version number (3.x, 4.x, 5.x)
platform (Mac, PC, other)

I have downloaded Flash Player, but I cannot see the movie.

If you had to download the installer, the Flash Player may have installed itself on a different browser than the one you are using (for example, if you have both Netscape and Internet Explorer installed on your system). Please try running the Flash Player installer again, and make to choose your preferred browser is selected when the browser selection option appears. If you continue to experience problems, please contact us.